Fa uns pocs dies s'entregaven els 75 premis Globus d'Or.
Nomes 89 persones, membres de l'Associació de la Premsa Estrangera a Los Àngeles

(enfront els 8.400 acadèmics amb dret a vot de l'Acadèmia que trien els Oscars)

són els encarregats d'escollir els candidats i els premiats.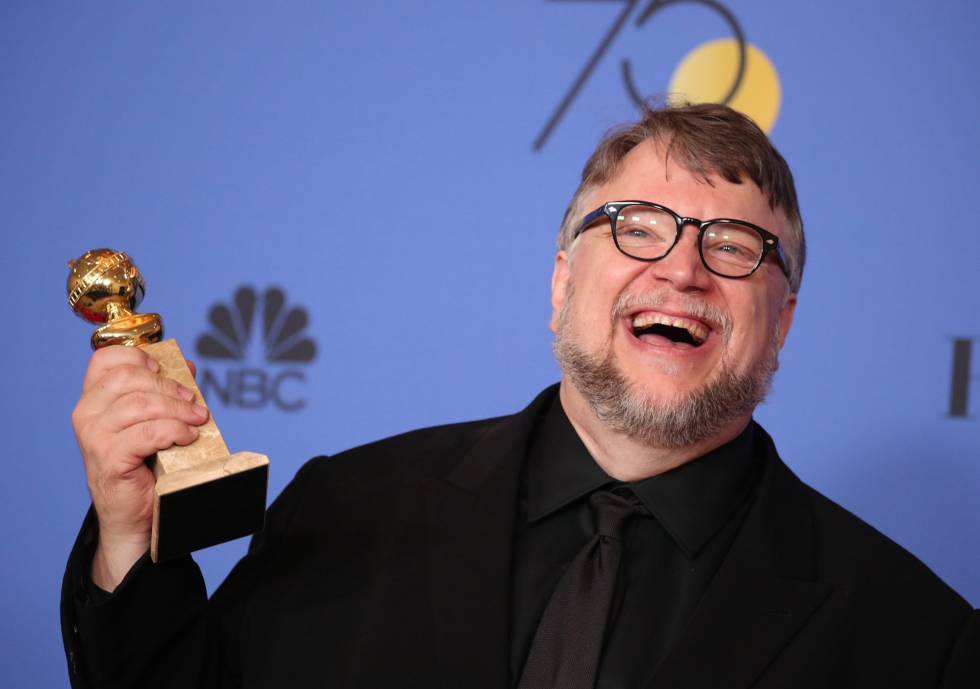 La forma del agua -la molt poètica nova creació de Guillermo del Toro- es posicionava amb 7 nominacions, Tres anuncios a las afueras de Martin McDonagh amb una estupenda Frances McDormand (amb 6), Los papeles del Pentágono la ració de cinema seriós de l'any de mr. Spielberg (amb 6).
L'ambiciosa (i poc entesa) Dunkerke només tenia 3 nominacions... sense dubte, la pel·lícula incompresa del 2017.
Tenint en compte els premis principals sembla ser que 2 pel·lícules sobresurten de la collita de l'any passat: (sobretot) Tres anuncios en las afueras (4 premis) i La forma del agua (2 premis); destacable la intepretació de la sra. Frances McDormand en la primera. Hem de tenir en compte, també, el film com a director de James Franco -The Disaster Artist- que es va emportar el premi gros a Donostia i en els Globus d'Or el de millor actor de comèdia per a ell mateix. Segur que carregarà molts premis el sr. Gary Oldman amb la seva intepretació de Churchill i en un segon pla queda la interpretació (sembla ser que la última) del multipremiat Daniel Day-Lewis. Aplaudible la millor cançó per a The Great Showman

(una altra cosa no té, però bones cançons, sí)

i necessari el premi a la millor peli d'animació per a Coco, Pixar ha tornat a conseguir una nova obra mestra.
I pel que respecta a la televisió
2 rotundes millors sèries:
The handmaid's Tale i
Big Little
Lies. Acaparant premis d'interpretació televisiva, sobretot la segona. M'agrada destacar el premi a la millor interpretació masculina de comèdia per al sr.
Aziz Ansari per a la moooolt recomanable
Master of None.
Vinga, doncs, ja tenim aquí els primers grans premis de l'any
... ara ens manca saber què n'opinen els acadèmics de Hollywood amb els Oscar.
CINEMA
Millor pel·lícula dramàtica
Dunkerke
La forma del agua
Call me by your name
Los archivos del Pentágono
Tres anuncios en las afueras (GUANYADORA)
Millor pel·lícula comèdia o musical
The Diasater Artist
Déjame salir
El gran showman
Yo, Tonya
Lady Bird (GUANYADORA)
Millor director
Christopher Nolan (Dunkerke)
Guillermo del Toro La forma del agua (GUANYADOR)
Steven Spielberg los archivos del pentágono
Martin McDonagh Tres anuncios en las afueras
Ridley Scott Todo el dinero del mundo
Millor actor en comèdia o musical
Steve Carrell La batalla de los sexos
Ansel Elgort Baby Driver
James Franco The Disaster Artist GUANYADOR
Hugh Jackman El gran showman
Daniel Kaluuya Dejame salir
Millor actor peli dramàtica
Timothee Chalamet Call Me By Your Name
Daniel Day-Lewis El hilo fantasma
Tom Hanks Los archivos del Pentágono
Gary Oldman El instante más oscuro GUANYADOR
Densel Washington Roman J. Israel, Esq
Millor actriu en comèdia o musical
Judi Dench La reina Victoria y Abdul
Helen Mirren El viaje de sus vidas
Margot Robbie Yo, Tonya
Saoirse Ronan Lady Bird GUANYADORA
Emma Stone La batalla de los sexos
Millor actriu peli dramatica
Jessica Chastain Molly's Game
Sally Hawkins La forma del agua
Frances McDormand Tres anuncios en las afueras GUANYADORA
Meryl Streep Los archivos del Pentágono
Michelle Williams Todo el dinero del mundo
Millor actor secundari
Willem Dafoe The Florida Project
Armie Hammer Call Me By Your Name
Richard Jenkin La forma del agua
Christopher Plummer Todo el dinero del mundo
Sam Rockwell Tres anuncios en las afueras GUANYADOR
Millor actriu secundària
Mary J. Blige Mudbound
Hong Chau Una vida a lo grande
Allison Janney Yo, Tonya (GUANYADORA)
Laurie Metcalf Lady Bird
Octavia Spencer La forma del agua
Millor BSO
Carter Burwell Tres anuncio en las afueras
Alexander Desplat La forma del agua GUANYADOR
Johnny Greenwood El hilo fantasma
John Williams Los archivos del Pentágono
Hans Zimmer Dunkerke
Millor cançó original
Home - Ferdinand
Mighty River - Mudbound
Remember Me - Coco
The Star - Se armó el belen
This is me - El gran showman GUANYADORA
Millor guió
Guillermo del Toro La forma del agua
Greta Gerwing Lady Bird
Liz Hannah, Josh Singer Los archivos del Pentágono
Martin McDonaugh Tres anuncio en las afueras GUANYADOR
Aaron Sorkin Molly's Game
Millor Peli Estrangera
Una mujer fantastica
Se lo llevaron: recuerdos de una niña de Camboya
In the Fade GANADORA
Sin amor
The Square
Millor peli animada
El bebe jefazo
The Breadwinner
Coco GUANYADORA
Ferdinand
Loving Vincent
TV
Millor serie dramatica
Juego de tronos
The crown
This is Us
The Handmaid's Tale GUANYADORA
Stranger things
Millor actor serie dramatica
Jason Bateman Ozark
Sterling K Brown This is us GUANYADOR
Freddie Highmore The Good Doctor
Bob Odenkirk Better Call Saul
Liev Schreiber Ray Donovan
Millor actriu serie dramatica
Catrina Balfe Outlander
Claire Foy The crown
Maggie Gyllenhaal The Deuce
Katherine Langford 13 Reasons why
Elisabeth Moss The handmaid's Tale GUANYADORA
Millor actor miniserie o peli tele
Robert de Niro The Wizard of Lies
Jude Law The Young Pope
Kyle MacLahan Twin Peaks
EwanMcGregor Fargo GUANYADOR
millor Actriu miniserie i peli tv
jessica Biel The sinner
Nicole Kidman Big Little Lies GUANYADORA
jessica lange Feud: Bette & Joan
SusanSarandon Feud: bette &Joan
Reese Witherspoon Big Little Lies
Millor actriu secundaria tv
Laura Dern Big Little Lies GUANYADORA
Ann Dowd The Handmaid'sTale
Michelle Pfeiffer The Wizard of lies
Shailene Woodley Big little Lies
Millor actor secundari tv
DavidHarbour Stranger things
Alfred Molina Feud: Bette & Joan
Alexander Skarsgard Big Little Lies GUANYADOR
Millor miniserie o peli tv
Big Little Lies GUANYADORA
Top of the Lake: CHina Girl
Millor serie tv comedia
The Marvelous Mrs Maisel GUANYADORA
Millor actriu tv de comedia o musical
Pamela Adlon Better Things
Rachel Brosnahan The Marvelous Mrs Maisel GUANYADORA
Millor actor tv comedia o musical
Anthony Anderson Black-ish
Aziz Ansari Master of none GUANYADOR
Kevin Bacon Mis experiencias sexuales con Dick
Eric McCormack Will y Grace